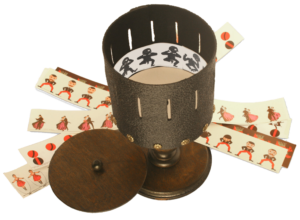 Our booth at the 2017 Milton Street Festival was a huge hit! But just in case you missed it, we will be continuing our year-long celebration of 150 Years of Moving Pictures: From the Zoetrope to Virtual Reality, with our family-friendly interactive display at the following community events:
Sept. 2nd – Milton Farmers' Market
Sept. 22-24 – Milton Fall Fair
Oct. 1st – Culture Days

Bring the kids and explore some of the earliest mechanisms invented that brought drawings and photographs to life over a century ago, including the Phenakistiscope, the Zoetrope, and the Praxinoscope, as well as the latest technologies for entering a three dimensional immersive experience.
Don't miss this unique experience!