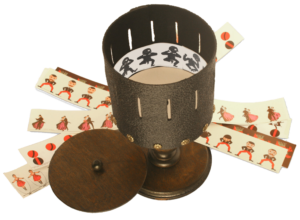 Our family-friendly, interactive exhibit celebrating 150 Years of Moving Pictures: From the Zoetrope to Virtual Reality, has been a huge hit at community events all summer and fall. Your next chance to see it will be at the next meeting of the Milton Historical Society:
Date: November 16th
Time: 7:30 pm
Place: 16 James Street, Milton

Jennifer Smith will be making a presentation on the early history of film. Before and after the talk, you can explore some of the earliest mechanisms invented that brought drawings and photographs to life over a century ago, including the Phenakistiscope, the Zoetrope, and the Praxinoscope.
Don't miss this unique exhibit!
(the information slides can now be viewed here)
You can also view the exhibit at our film launch and special screening of EADWEARD, a dramatization of the eccentric life and pioneering work of photographer and zoopraxiscope inventor Eadweard Muybridge.
Our exhibit at Milton Culture Days: