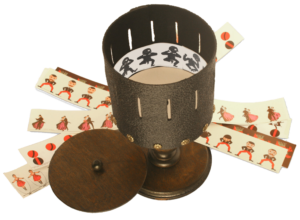 Be sure to join us at the Milton Film Festival's booth at the 2017 Milton Street Festival on Saturday June 3rd. We will be launching our year-long celebration of the history of moving pictures, from the Zoetrope to Virtual Reality, with a family-friendly interactive display.
Bring the kids and explore some of the earliest mechanisms invented that brought drawings and photographs to life over a century ago, including the Phenakistiscope, the Zoetrope, and the Praxinoscope, as well as the latest technologies for entering a three dimensional immersive experience.

In addition to the Milton Street Festival, we will be presenting this fun and educational display at community events all year, including the Farmers' Market, Culture Days, and the Milton Fall Fair.
The booth will be open from noon until dark, in front of Yogurty's on Main Street. Don't miss this unique experience!